What changes will come to our local environments in the next century and how can we adapt to them?  The All Climate is Local workshop at FALCON 2022 set out to answer these questions through establishing collaboration between climate researchers and TCU (Tribal Colleges and Universities) extension, faculty, and students.  The workshop was organized by the Desert Research Institute, the Montana Climate Office, and Salish Kootenai College, and made possible through a USDA NIFA grant. Presenters included Maureen McCarthy, Kyle Bocinsky, Virgil Dupuis, Kelsey Fitzgerald, Robin Smuda, Rene, Amy Ganguli, and Erin Riley.
OUR CLIMATE FUTURE
While climate change often hits tribal lands the hardest, these areas receive relatively little research attention.  All Climate is Local sought to address this inequality by sharing new climate projections based on environmental data from 34 TCUs. Montana Climate Extension director Kyle Bocinsky combined historical climate data going back to 1950 with projection data for four future models (moderating emissions, middle of the road, high emissions, and accelerating emissions) to produce a series of graphs like the one shown below for Bay Mills Community College.  The statistics – seasonal precipitation, growing degree days, wind speed, and more – were all decided in consultation with tribal agricultural professionals and community leaders in order to gather the most useful data.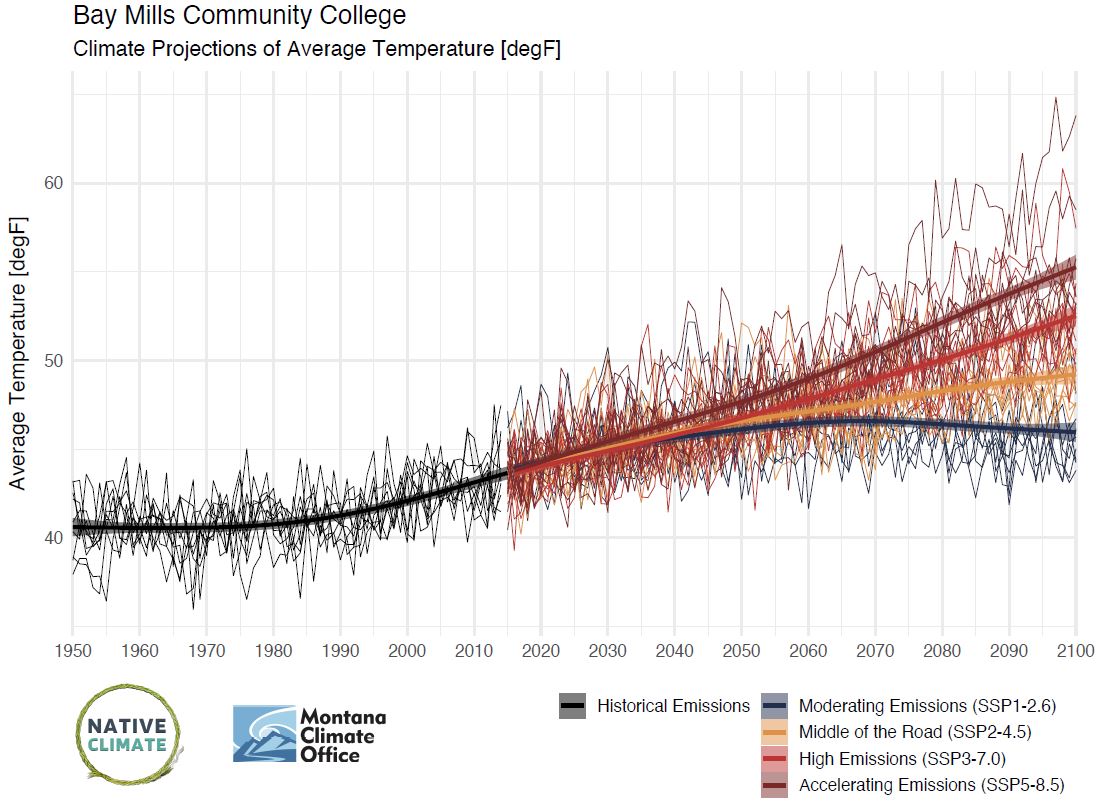 This project is an opportunity for native groups to be in the forefront of climate research.  CMIP6 data is used in major national climate projections and represents the latest advancements in our understanding of the climate.  All the climate data is available on our website under the projections tab.
CLIMATE SCIENCE SOVEREIGNTY
All Climate is Local aimed not just to share this data with tribal communities, but to encourage active engagement with and application of the data.  Each workshop participant received a USB drive with the CMIP6 climate data and a hard copy of the climate projection graphs for their TCU.  In addition to discussing the projections, Kyle Bocinsky and Maureen McCarthy presented the best and most accessible options for installing meteorological, soil, and air quality monitoring devices.  
Gathering data is important, but it needs to be shared and interpreted effectively to have an impact.  Native Climate will encourage this through Student Climate Projects, an exciting opportunity announced at this workshop that will provide up to 30 stipends of $600 each for students to tell the story of climate impacts on their communities, through any medium of their choosing.  Scroll to the bottom of the All Climate is Local page for more information and an application link.
TELLING YOUR CLIMATE STORIES
The CMIP6 data shows what we can expect to experience in future years, but the scale of these projected changes is so large it sometimes seems abstract.  To understand the real, local impacts of these trends, presenters asked workshop attendees to report observed changes in weather and their direct impacts on the environment, economy, and communities.  Out of all the factors listed, the six most commonly reported were drought, wildfires, extreme heat events, extreme wind events, and flooding.  Responses are displayed in the map below: the size of each dot represents how many out of the top six climate events were reported in the area.  Click on each dot for more details.
These events are more than just statistics.  Unprecedented levels of heat, drought, wind, fire, and flooding cause damage to people, property, and livestock, and can create environmental hazards like algal blooms with long-lasting effects.  The graph below shows the impacts of these weather events as reported by ACL attendees. 
Unlike the CMIP6 data, this is a small set of statistics based on personal observations and experience.  Both types of information are necessary for developing appropriate climate adaptation strategies for a community. Working from a combination of current experience, environmental knowledge, and climate data, participants shared their climate adaptation priorities.  Of the many approaches presented, the most impactful were those which prioritized the incorporation of native languages into climate change resources, youth and student involvement, and food sovereignty.
FIGHTING FOR OUR FUTURES: CURRENT CLIMATE INITIATIVES
Addressing climate change is already a priority for many who attended this workshop.  Along with highlighting priorities for the future, ACL was an opportunity to showcase some of the existing initiatives at TCUs and funding programs from the federal government.
Tribal Colleges and Universities
TCUs already provide a tremendous amount of resources to help their communities understand and combat climate change.  Altogether, workshop participants reported 20 climate adaptation-related courses and degrees offered at their institutions, with the most common being natural resource management and plant science.
Climate initiatives go beyond academics.  Participants also reported multiple extension programs addressing climate issues, including community gardens and agriculture resource economics courses.  At the workshop Salish Kootenai College presented some of their successful past and ongoing initiatives, including their garden, diet, and food sovereignty projects and their work on white bark pine restoration (Pictured below: image credit Salish Kootenai College).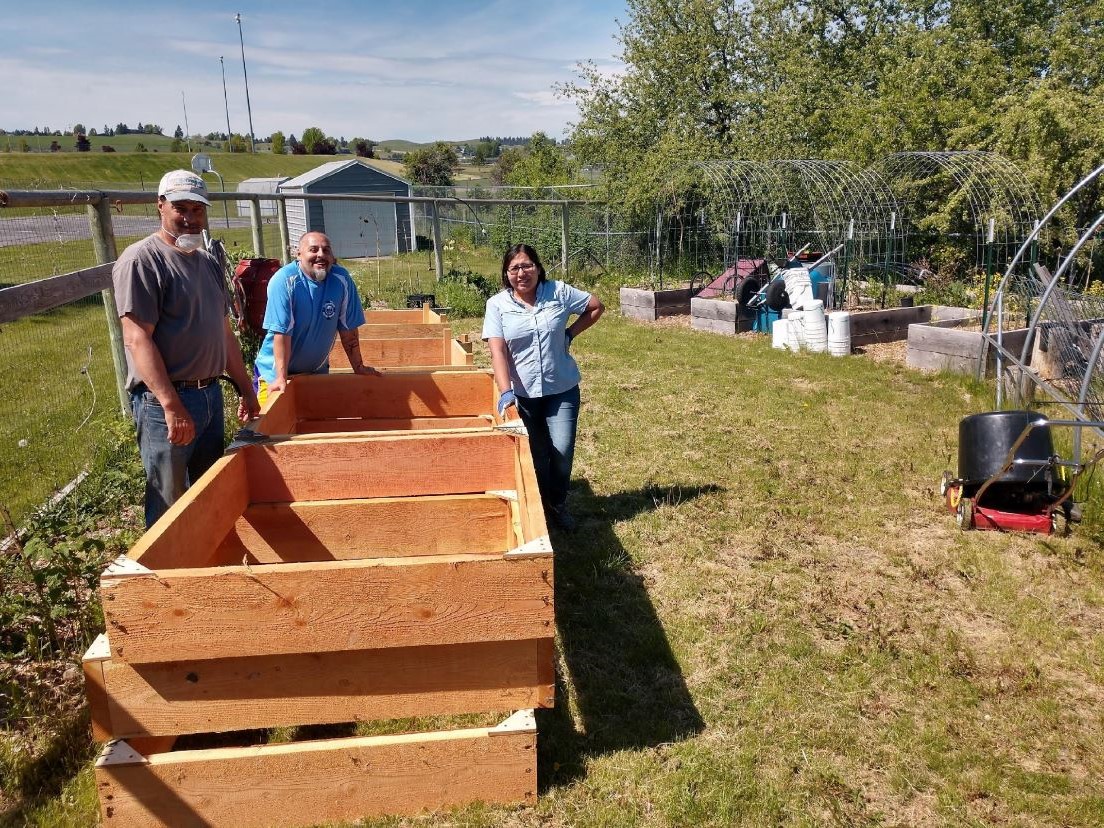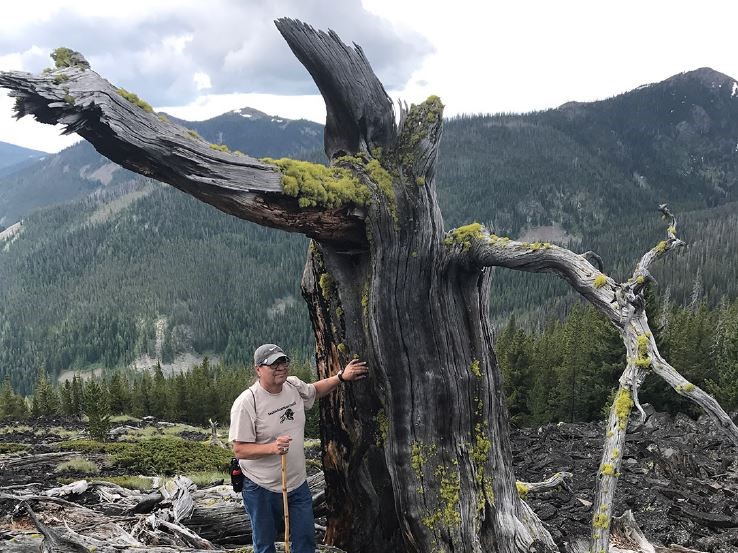 Nifa Programs
Working with TCUs and agricultural professionals, the National Institute of Food and Agriculture provides resources to mitigate the effects of climate change.  Erin Riley of NIFA discussed available funding through the A1712 program for rapid disaster response and through the Tribal College Research Grants program.  Research grants can cover a wide range of topics, but many funded projects have focused on the current climate emergency.
LOOKING FORWARD
Our climate is changing, but we are constantly developing new ways to adapt to our environment.  The combination of highly accurate climate projections, community-driven resiliency programs, and support from tribal and federal governments is a powerful toolkit for building a sustainable future.  
The data and programs presented in this workshop exist to serve you, and Native Climate welcomes any and all feedback.  If you have any questions, suggestions for improvement, or ideas for new areas of research, please contact us via this form, or by emailing [email protected].